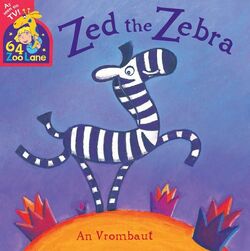 This book is based on the seventh episode from the first season. A zebra named Zed loves to race across Africa. However, he has to have fun after losing the race.
Summary
See the seventh episode.
First Appearances
William the Weaverbird (no lines)
Alan the Aardvark (no lines)
Patsy the Porcupine (no lines)
Differences between the book and the TV episode
William, Alan, King Snake, and Patsy are seen in the background in the book. An additional gecko is also seen in the jungle background. This does not occur in the TV episode.
Gallery
Ad blocker interference detected!
Wikia is a free-to-use site that makes money from advertising. We have a modified experience for viewers using ad blockers

Wikia is not accessible if you've made further modifications. Remove the custom ad blocker rule(s) and the page will load as expected.