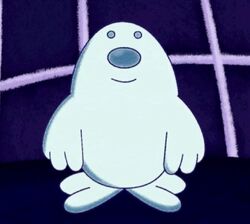 Mr. Icy Flipper is a motionless ice sculpture made by Snowbert. He was the new friend of Snowbert until he sank into the bottom of the ocean.
Physical Appearance
He looks much like Sidney, but he is white in color.
Personality
Mr. Icy Flipper is a motionless sculpture and therefore is emotionless. He is however impersonated by Snowbert to "talk".
Appearances
Note: This character does not speak. Therefore, he does not have any dialogue.
Season 3
The Story of Snowbert's New Friend (first appearance)
Gallery
Developing
Completed
Trivia
He is the first and only character that is a sculpture.
Despite his dialogue is impersonated by Snowbert, Mr. Icy Flipper does not have a standalone voice actor.
Ad blocker interference detected!
Wikia is a free-to-use site that makes money from advertising. We have a modified experience for viewers using ad blockers

Wikia is not accessible if you've made further modifications. Remove the custom ad blocker rule(s) and the page will load as expected.