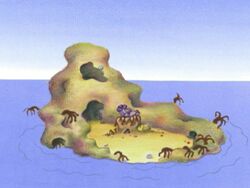 Mossy Bay Island is a fictional location taking place in the Atlantic Ocean.
Overview
It is home to a grumpy old walrus (with a French accent) and a group of four puffins who play soccer. The only known resident not to be on land is Thelma (a sperm whale). Gunnar (a seagull) is also one of the residents to live in the island.
The animals that are found on this island are mostly aquatic animals. They range from crabs to starfish and worms to snails. Many birds (such as gulls and other sea birds) are found on this island.
Locations
Ocean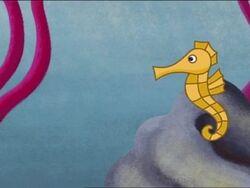 The ocean is the place where the puffins started swimming.
In the ocean, the sea floor is only shown. The animals found in the ocean are seahorses, Atlantic fishes, and aquatic invertebrates. The ocean is also home to whales and many other types of mammals.
Known Residents
Thomas, Sharon, Lewis, and Jamie the Puffins
Hercule Mustache the Walrus
Appearances
Season 2
The Story of Hercule Mustache (mentioned only)
The Story of the Puffins of Mossy Bay (first appearance)
Season 3
The Story of Jamie the Littlest Puffin
The Story of the Puffins' Treasure
The Story of Thelma the Whale
Season 4
The Story of the Whale Trip
The Story of the Record-Breaking Puffins
Trivia
This island is very similar to the island from Wild Kratts.
Ad blocker interference detected!
Wikia is a free-to-use site that makes money from advertising. We have a modified experience for viewers using ad blockers

Wikia is not accessible if you've made further modifications. Remove the custom ad blocker rule(s) and the page will load as expected.