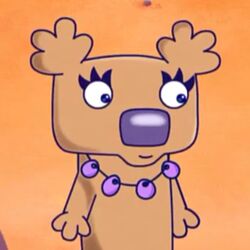 Koala Mama is the mother of Phoebe. She is widely known for cooking eucalyptus soup as a popular recipe.
Physical Appearance
She is larger than her daughter Phoebe. However, she has a beady necklace.
Personality
She is a good advisor who reminds Phoebe to wash her paws and ears before eating.
Appearances
Season 3
The Story of Joey's Sleepover (first appearance)
Season 4
The Story of the Jimjameree Tree (no lines)
The Story of the Boomerangball Game (no lines)
Gallery
Trivia
She is the second resident not to appear outside Adobe Flash. The first is Carrie.
She is also the only parent marsupial not to appear outside Adobe Flash.
Ad blocker interference detected!
Wikia is a free-to-use site that makes money from advertising. We have a modified experience for viewers using ad blockers

Wikia is not accessible if you've made further modifications. Remove the custom ad blocker rule(s) and the page will load as expected.