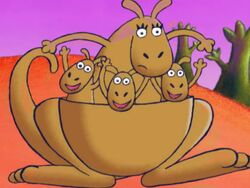 Janice the Kangaroo is the mother of three triplets. She is the friend of Janet and Julie.
Physical Appearance
She is tan golden and is possibly based on an antilopine kangaroo.
Personality
She is very helpful in greeting Julie. She and the other kangaroos like Joey who jumped very high without his boots.
Appearances
Season 1
The Story of Joey the Kangaroo (first appearance)
Season 2
The Story of Alan the Aardvark (kangaroos mentioned only)
Season 4
The Story of the Jimjameree Tree (no lines)
The Story of the Boomerangball Game (no lines)
Gallery
Animation
Trivia
She, along with Julie and Elvis only appeared once outside Adobe Flash.
Janice is the only kangaroo to have more than one children. This does not count the unnamed individuals.
She and Julie are one of the last characters from Australia in Season 1 to return to Season 4 (which uses Adobe Flash).