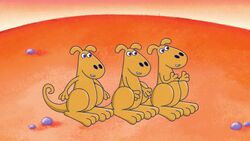 Janice's triplets are three kangaroo joeys that are mothered by their mother Janice.
Physical Appearance
All three are yellow and based on Antilopine kangaroos.
Appearances
Season 1
The Story of Joey the Kangaroo (first appearance)
Season 3
The Story of the Big Billabong Wave
The Story of the Together Stones
Season 4
The Story of the Jimjameree Tree
The Story of the Boomerangball Game
Gallery
Animation
Trivia
All three only appeared once outside Adobe Flash.
Ad blocker interference detected!
Wikia is a free-to-use site that makes money from advertising. We have a modified experience for viewers using ad blockers

Wikia is not accessible if you've made further modifications. Remove the custom ad blocker rule(s) and the page will load as expected.