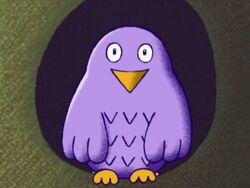 " the Owl" is an unnamed purple owl who lives in Africa.
Personality
He is a nocturnal owl who sleeps in trees. Not much personality is known about this owl. It can notice danger approaching, since owls are very intelligent in seeing things.
Appearances
Note: This character does not speak. Therefore, it does not have any lines.
Season 1
The Story of the Elephant Bird (first appearance)
Season 2
The Story of Ronald and Rosie
Gallery
Trivia
A similar owl appeared in the Zed book written by Vrombaut. However, it is purple.
It may be based on a Short-Eared Owl.
Ad blocker interference detected!
Wikia is a free-to-use site that makes money from advertising. We have a modified experience for viewers using ad blockers

Wikia is not accessible if you've made further modifications. Remove the custom ad blocker rule(s) and the page will load as expected.