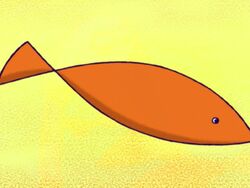 The fish is both: a natural type of food and a species of animals. The fishes are based on goldfish and are food to carnivores. Snowbert, Pauline, and Seamus are the only characters who eat fish.
In different regions, the fish seem to be different. The fishes in Africa are based on African cichclids. The fishes in the North Pole are based on Arctic sardines. The fishes in North America are based on salmon.
Only one fish had the ability to talk in the entire series. His name is Confuse-us, a carp.
Gallery
Non-individual Fish
Ad blocker interference detected!
Wikia is a free-to-use site that makes money from advertising. We have a modified experience for viewers using ad blockers

Wikia is not accessible if you've made further modifications. Remove the custom ad blocker rule(s) and the page will load as expected.