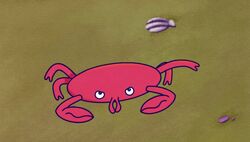 Crabs are aquatic crustaceans that can live on land or on sea.
Physical Appearance
All crabs are coloured red.
Personality
Some crabs can be very territorial to the protagonists. Three crabs at the top of Mossy Bay began blocking the path for Jamie and Mr. Moustache.
Gallery
Non-individual Crabs
This section is for crabs that do not have their own pages.
Individual Crabs
Trivia
A crab is also used as one of the food for the animals on the online game for Millimages.
Ad blocker interference detected!
Wikia is a free-to-use site that makes money from advertising. We have a modified experience for viewers using ad blockers

Wikia is not accessible if you've made further modifications. Remove the custom ad blocker rule(s) and the page will load as expected.