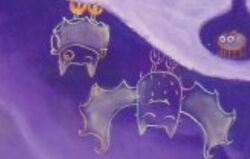 Bats are nocturnal mammals that resemble mice. They are the only mammals with wings and the only animals that can fly.
The bats do not appear in the TV series, because they are mentioned in Episode 49 as one of the scariest animals ever known. However, two made an appearance in one of the books by Vrombaut. They are seen in Doctor Gordon's cave.
Trivia
There is a bat named Brian in a Halloween postcard. However, he did not really appear in the TV series.
Ad blocker interference detected!
Wikia is a free-to-use site that makes money from advertising. We have a modified experience for viewers using ad blockers

Wikia is not accessible if you've made further modifications. Remove the custom ad blocker rule(s) and the page will load as expected.