Australia is a native country which belongs to main sources of nature: outbacks and billabongs. It is known to have two national animals of Australia: kangaroo and koala.
Outback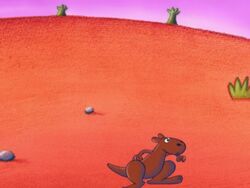 The outback is home to a lot of kangaroos and koalas. The adults try to teach their young a how to jump for the future competition for springtime.
Billabong
The billabong, as its name suggests, is a blue lake where the jumping competition was held. During the competition, no one is allowed to use jumping boots, which is thought to be cheating.
It is home to a green frog, parrots, a platypus, and a wise-cracking cockatoo.
After a big number of years, the time comes for Wally to summon the big waves.
The Great Red Rock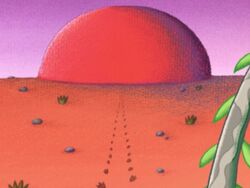 Many animals thought the red rock is living. However, it is home to an elderly shaman wombat, who teaches ancient dances to bring the correct weather. It is also believed that ancestral natives live in the home.
The Rainforest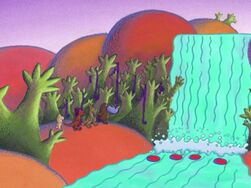 Joey and his friends camp in the rainforest with Mr. Platypus. Where they swing vines to the other side and cross the stepping stones in the river. It may be home to kookaburras, emus, brush-tailed possums, a monitor lizard, and Tasmanian devils.
In its second appearance, Joey and Phoebe wash their faces before they eat dinner.
Appearances
Season 1
The Story of Joey the Kangaroo (first appearance)
The Story of Wally the Wombat
Season 2
The Story of Phoebe the Koala
The Story of Joey's Camping Trip
Season 3
The Story of the Big Billabong Wave
The Story of the Play and Splash Pool
The Story of Joey's Sleepover
The Story of the Together Stones
Season 4
The Story of the Jimjameree Tree
The Story of the Boomerangball Game
The Story of the Last Buluru Berry
Gallery
Animation
Concepts
Ad blocker interference detected!
Wikia is a free-to-use site that makes money from advertising. We have a modified experience for viewers using ad blockers

Wikia is not accessible if you've made further modifications. Remove the custom ad blocker rule(s) and the page will load as expected.