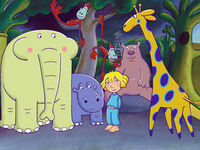 64 Zoo Lane is a children's cartoon created by An Vrombaut which was shown on CBBC.,and aslo aired on Noggin
It features a 7 year-old girl named Lucy who lives at 64 Zoo Lane, next door to a Zoo. Each night she is told a story by the animals present there. Characters include Georgiana the Giraffe, Nelson the Elephant, Tickles and Giggles the Monkeys, Boris the Bear, and Molly the Hippopotamus.
The cartoon emphasizes friendship and responsibility. At the story's end, friendly morals are discussed, then bed-time is declared. Georgina deposits Lucy into bed via the bedroom window (later episodes show Lucy yawning then sleeping soundly in bed; in the original episodes she would be lulled to sleep by the storytelling itself).