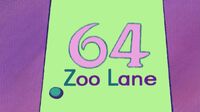 64 Zoo Lane is a British-French children's cartoon created by An Vrombaut which was shown on CBBC, CBeebies, and also aired on Noggin and PBS Kids Sprout. It is made by the company Millimages.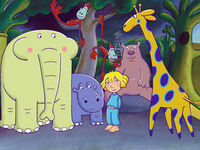 It features a 7 year-old girl named Lucy who lives at 64 Zoo Lane, next door to a Zoo. Each night she is told a story by the animals present there. Characters include Georgina the Giraffe, Nelson the Elephant, Tickles and Giggles the Monkeys, Boris the Bear, and Molly the Hippopotamus.
The cartoon emphasizes friendship and responsibility. At the story's end, friendly morals are discussed, then bed-time is declared. Georgina deposits Lucy into bed via the bedroom window (later episodes show Lucy yawning then sleeping soundly in bed; in the original episodes she would be lulled to sleep by the storytelling itself).
Season 1-2
Edit
When Vrombaut was ready to animate her giraffe artwork, development for the series has begun. The development was done in Millimages in France. When development was done, the series had its premiere in Cbbc. The series was renewed for a second season in 2003 and ended in 2004. When the second series ended, the series continued its reruns on Cbeebies.
Season 3-4
Edit
After the series continued its reruns, Millimages revived the series in Adobe Flash. The main difference is that some characters have different tones. The revival of the series began in 2010 and the series ended in 2013. This series introduces new characters from a new region: Asia. The first resident from Asia to appear is Cassandra the crane.
U.S. Broadcast
Edit
The series is also shown in the United States. The series had its first U.S. premiere in the former preschool channel Noggin. Some characters are given American accents. In addition, all words pronounced by British people are given American pronouncing. The first and second series were only broadcast in the U.S. When its run ended on Nick Jr., the series was moved to Sprout. Sprout aired reruns from Season 1 and 2. However, the series ended its broadcast on 2013 of September.
The American voice editing was done by Lobster Films. The difference is that Kevin was voiced by Dan Russell in order to make him sound like an actual male voice. Ciara Janson gave Lucy an American accent. Megg Nicol and Dian Perry lent their voices on five characters: Georgina, Tickles, Giggles, Audrey, and Nathalie. Lucy's mother also has an American accent (voiced by Dian Perry).
Since the program is not currently on air, four episodes can be viewed on demand. Season 3 and 4 have yet to start airing on the U.S..